With 27 World Series championships, baseball's highest payroll and some of the most boastful fans in sports, the New York Yankees have to be the team other baseball fans love to hate, right? Wrong.
According to a formula created by The Nielsen Company, there are four teams more detested than the Bronx Bombers, The Wall Street Journal reported.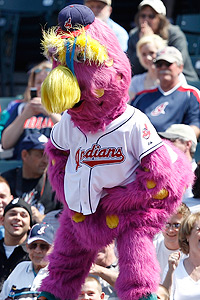 Joe Robbins/Getty ImagesAccording to a report, Slider and his Cleveland Indians are baseball's Public Enemy No. 1 among fans.
The No. 1 most-disliked team in baseball, according to the formula, is the Cleveland Indians.
The Boston Red Sox, the Yankees' archrival, rank No. 2 on the list.
The formula helps determine whether consumers have positive, negative or neutral reactions to brands in their online messages. Nielsen's "Sentiment Rankings" range from 5 to minus-5. No team finished with a negative number. But six teams finished with a number lower than 2.
Some of the others making the not-so top 10: Chicago White Sox (No. 7), Baltimore Orioles (No. 8), New York Mets (No. 9) and Los Angeles Dodgers (No. 10).
At least one Indians blogger wasn't surprised by the findings.
"I can believe that though," Deep Left Field Indians blogger Ed Carroll told the newspaper. "The team does a lot to alienate its fans."
The Cincinnati Reds (No. 3) and Houston Astros (No. 4) also ranked higher than the Yankees on the hatred scale. The Washington Nationals (No. 6) were the only other team to have a number lower than 2.
The San Francisco Giants and Oakland Athletics were the most popular teams among fans, according to Nielsen's study.